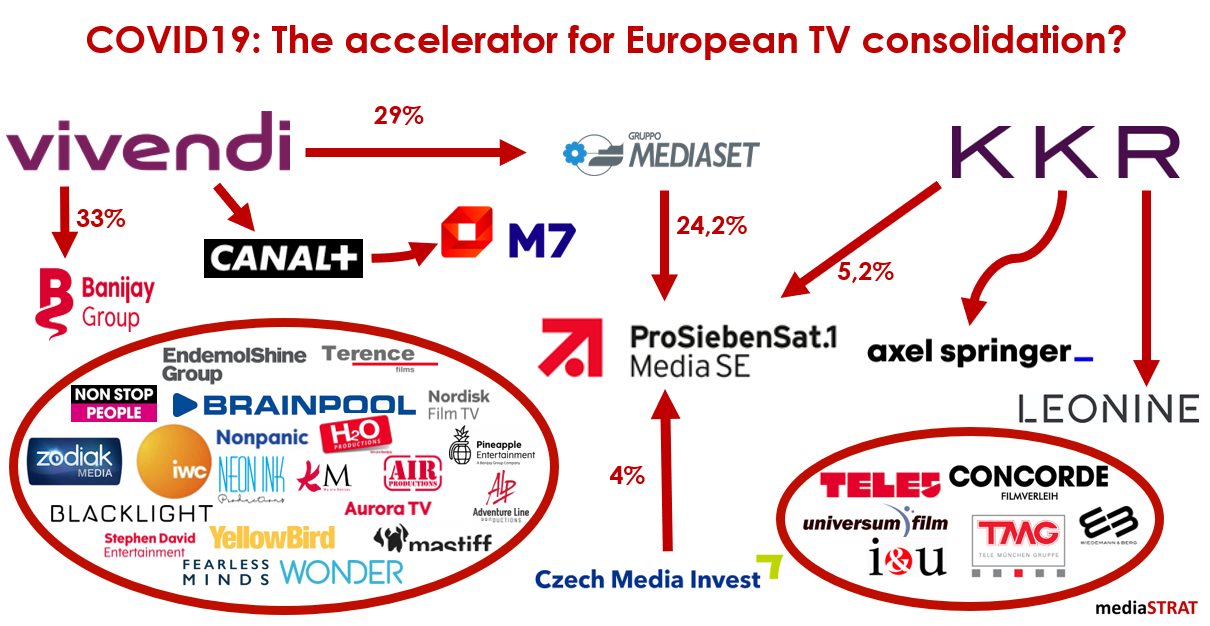 COVID19: The accelerator for European TV consolidation?
2019 has been a year of major consolidation in the US amongst media companies and with operators. The Disney / Fox and the ATT / Warner Media acquisitions have reshaped the industry.
European operator and Pay TV
In Europe the operator space is also changing with the Vodafone acquisition of Unity Media and the current merger in the UK between Liberty´s Virgin Media and Telefonica's O2. In parallel the European Pay market is evolving fast with the mega Comcast / Sky or the M7 acquisition by Vivendi's Canal+. These groups are possible aggregation points for further pan European mergers.
Content production champions but no streamers
With the skyrocketing demand for original content but less visible to the public content champions are emerging in Europe. Banijay now with Vivendi as stakeholder and Leonine the emerging group funded by investment company KKR are giants in a traditionally very fragmented market.
On the downside no European champions able to rival mega streamers Disney, Netflix, Amazon and Apple is in sight.
Commercial TV Stations
National private broadcasters (TF1, itv, Mediaset…) are all very severely impacted by the COVID related massive drop in their advertisement revenue as they need to invest in original content and streaming. The recent reshaping of German's ProSiebenSat1 shareholder structure might be the kick off of further consolidation in the TV segment. Alongside Bertelsmann's RTL group new European Group could emerge to take advantage of synergies and economies of scale both in content acquisition and production infrastructure as it progressively move from on local premise to the cloud.
What does it mean for your business and how to adapt?
Independently of where your company stands in the overall media eco system your business models and go to market strategies are very likely impacted by the structural and COVID related evolution.
Get in touch with mediaSTRAT to get a better understanding of these changes and discuss how we could possibly help you adapt and grow beyond.